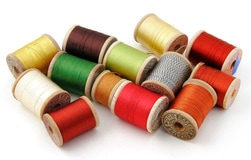 ...Thoughts from the bench

---
"as original" - tip tops, 5-17-17

| | |
| --- | --- |
| | Original Patent granted for design of Perfection tip top, showing an approximately 45 degree loop angle. Since the pear-shaped loop in the perfection design is elongated along the axis of the rod and line movement, it restricts the flow of line less at any given angle than the theoretical circular loop at left. |

If we follow Michael Sinclair's dictum in his landmark Bamboo Rod Restoration Handbook, a true "restoration" should always be "as original". This applies to guides, wraps, varnish, reel seat ferrules, grip, and more. I have happily followed this guideline for years, only compromising occasionally where proper materials or vintage components were not available.
With guides, for example, it is easy to notice the obvious difference. Doing a true restoration often means using fewer guides on a vintage rod (and in their original placements) than what might be recommended for a current day fishable fly rod. It almost certainly means using smaller snakes and a smaller stripping guide. Tip tops are not as often noticed but their effect on casting performance is at least as significant.
The current style of pear-shaped "perfection" tip tops first became available in 1915, and they were quickly adopted by many progressive rod makers. The previous style of soldered ring was functional, but had the unwanted effect of allowing the fly line to become looped or kinked around the tip top. I found this out one evening last summer while fishing my local river with a newly restored early Edwards trade rod. With straight ahead forward and back casts the ring top performed fine. But after a number of rolls and side to side swishes to extend line, I found the line was fouled. Yep, the line was looped right there around the ring top! It only took a minute to realize the significant design improvement represented by the pear-shaped perfection top...
It happens that the second tip of this Edwards trade rod is equipped with a very small agate tip top; I had knowingly left this tip in the car for my first foray with the rod on the river.
So...? If I plan to continue to fish this elegant little Edwards, do I learn to put up with the idiosyncrasies of the original ring top, or do I change it to a vintage perfection top (which Edwards would have switched to not long after this rod was made) - ? And what about the other tip? Do I just let this second tip (with it's diminutive agate top) sit out, rather than use both tips alternating from trip to trip, as is one recommended practice? Hmm...? At least I still have a little time to mull this over --- since the coming season, for me anyway, is still some weeks away...
MF
- tip tops, part 2, 6-14-17
Casting a 1920's Cross 8-1/2 footer two days ago changed my perspective on little agate tip tops. This lovely Cross rod has all original components including small to very small snake guides (1/0 and 2/0, down to 3/0 and 4/0 on the tips). The tip tops are perfection steel on one tip, and a small agate on the other. Since I am restoring this vintage rod "as original" for an owner who wants to fish it, I was out test casting with each tip, ready to suggest that using silk lines, it will perform well with its original small guides and tip tops.
Casting with the perfection tip was pleasant and easy with both a 5-1/2 DT restored silk line, and a 6 DT Scientific Anglers line. Switching to the agate topped tip, I was expecting similar results - but was completely shocked when the silk line would not extend easily during false casting. Even the idea of shooting line was out of the question with this tip. Maybe with the ultra smooth S.A. 6 DT line it would be different? No.
Hmm... It's clearly not just the fragility of the agate tip tops that must be considered - their inside diameters clearly play a major part, but it is also the angle of their loops that must be taken into account as well....
MF

---
- tip tops, part 3, 6-16-17

Casting the Cross rod got me thinking more about the aspects of tip tops that influence the smooth flow of a fly line through their loops. A little geometry provided some rough figures for the effective diameter of that loop at different tip top loop angles.

...more thoughts to come

choosing wrap colors, 6-4-16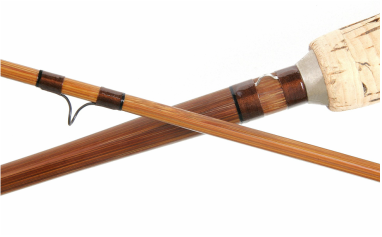 When you first start to tie flies, the myriad choices of feathers, hair, fur, wool and tinsel are like a toy chest for constructing all manner of fanciful creations. It usually takes months, and sometimes even years, for new tyers to move away from their first whimsical efforts, and learn to tie the standard patterns...

It's similar when you start to wrap rods. The spools of fine silk (or nylon) - red, yellow, orange, black, brown, and white - not to mention jaspers and space dyes - are all so alluring that almost no color combination looks bad! Much later, as with fly tying, you come back with a more experienced eye to look at the old combinations on some of the best older rods. Whether complicated signatures, subdued tipping, or simple but elegant ferrule wraps, most retain an air of
quiet dignity that has held up over the years.

Rod restoration, strictly interpreted, involves carefully matching original wraps, or matching original wrap colors that have changed from years under yellowed varnish, or faded from many days of streamside sun. But occasionally a rod owner asks for different colors, or asks you to choose from among a few colors to finish a rod intended primarily for fishing. When this happens, what at first seems straightforward quickly becomes more complex...

---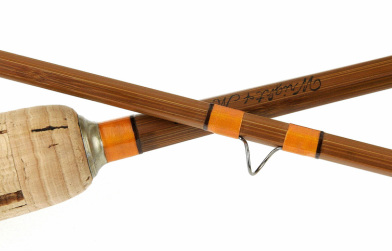 This 8 ft Wright & McGill Granger Victory originally had orange and black jasper wraps, trimmed with black in the earlier versions. In this case the rod owner liked orange, but did not want to use the original orange and black jasper thread. We settled on medium orange with medium brown tipping - after trying out light, medium and darker brown, as well as black tipping...
MF


---
saving original wraps, 2-18-16

An old fly rod is a lot like an old fishing camp or hunting cabin that has been in the family for generations. Its nicks, scrapes and rubs trigger our memories of past seasons afield and astream, of fish hooked and caught, or lost, good companionship (or needed time alone), and warm fires at day's end. More and more when I restore a rod, I want to keep those memories intact by preserving at least some original wraps, and matching where necessary new silk to the old wraps, and by polishing out the original varnish (and touching it up a little where needed to protect the bamboo from moisture).... MF


cleaning cork grips, 2-17-16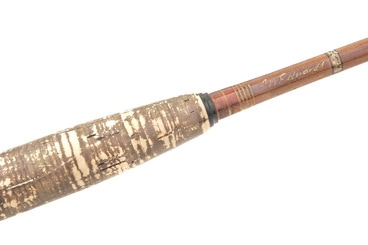 One of the first things I often do when a rod comes in, after wiping it down with a damp cloth, is to clean the cork grip. This ranges from gentle hand rubbing with warm water and mild soap (or citrus-based cleaner like "Awesome") to light wiping with a fine 3m pad or soft brush, taking care not to gouge or ridge the cork. In more extreme cases of dark staining, goup, or varnish on the grip, a light sanding often uncovers a clean cork surface just below the dirt and stains.

I used to do this cleaning almost automatically, using care but often without much forethought. The cork was then blotted and allowed to air dry overnight.

Yesterday I received a 1920's EW Edwards rod, in completely original well-used condition. As I pulled it from the original rod bag bag, I noticed its graceful cigar grip, stained from many years of use, but not overly dirty. I found I had to clean the oxidized ferrules before I could assemble the rod, and while doing that, I realized I was working out of my usual order ...that's OK, I told myself, I would get around to cleaning the cork in the morning.

As I flexed the close-to-100 year old rod, while gently grasping the old cigar grip, I thought, "Maybe I won't be so quick to clean this one, at least not right away (and I can always do it later). Perhaps by leaving the signs of almost 100 years of honorable use still there under my hand, this rod can continue to feel and look like the venerable 1920's EW Edwards it is....
MF

---