Current and Recent Restorations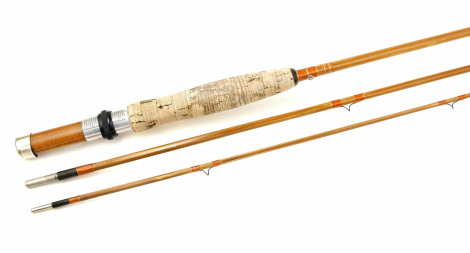 Folsom Arms #1520 (Edwards), 8-1/2 ft (Completed 5-16)

This high quality Edwards trade rod was made while EW Edwards supervised rod production at Winchester from 1919 to 1924. It exhibits the characteristic Edwards reel seat, the hard rubber winding check, and high quality oxidized hand-welted nickel silver ferrules. The wraps are orange and pongee, over lightly flamed cane, with the usual Edwards winding pattern at the hook keeper.

....This lovely and delicate 8-1/2 footer casts beautifully with a DT5 line.

---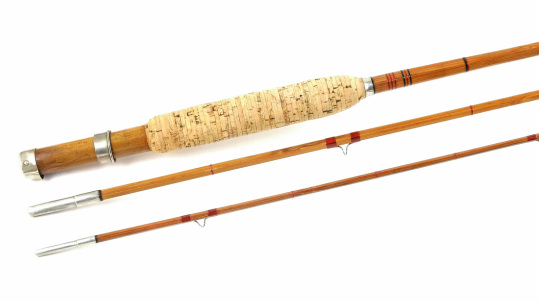 1927 Heddon #14 Fly Rod, 9 ft (Completed 6-15)
This rod was found among a bundle of bamboo sticks in the corner of a local reel repair shop. All the bamboo was dirty, stained, and splattered with white paint. The narrow cork rings on the butt section caught my eye, and I realized it was a very early Heddon fly rod from 1927. The mid and tip sections were there, but wraps and guides were missing, and ferrules loose, with one stuck and another bent. The rod was 'all there', however!

Bringing this historic rod back to its former bright and fishable condition was a pleasure....

---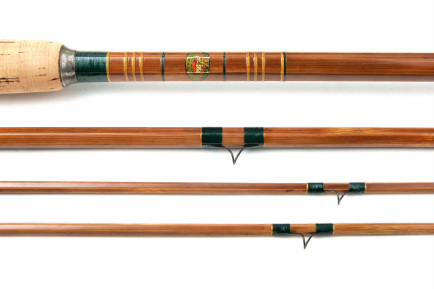 1930's Montague Trail Salmon Fly Rod, 12 ft. (Completed 3-16)

Blued hand-welted serrated nickel silver ferrules, blued nickel silver screw lock reel seat and winding check. Elongated cigar cork grip with fighting butt. Blackened steel snake guides + Agate stripping guide and tip top. Bamboo and ferrules in solid condition.
Damaged wraps, corroded snake guides, corroded tip tops, damaged stripper and melted varnish required complete restoration.

---